30-Day Satisfaction Guarantee &
1-Year Warranty on Materials & Workmanship We at Water Walker Props, Inc. thank those who have chosen our product. We hope your investment brings you optimum performance in its use. To facilitate the highest level of customer satisfaction, product improvement, and expedient warranty repair of your purchase, we ask that all customers fill out and return, by mail, the warranty registration form (shipped with the propeller), in full, upon receipt of your new Water Walker propeller. Warranty Registration form must be filled out and returned in order for the Guarantee and Warranty to be effective.

Upon our receipt and registration of your completed warranty document you will be entitled to the stated terms and conditions of warranty. Please note that all warranty return items must be shipped prepaid to Water Walker Props, Inc., 19 Evergreen Drive, Lake Wales, FL 33898. Upon receipt, we will inspect and evaluate the item or items in question for repair and serviceability. After product inspection and evaluation, you will be advised, prior to service or repair, according to the condition of the returned item.

Thank you for taking the time to fill out and return this form. Your time in doing so allows us to provide you with better service and a better product.

Water Walker Props, Inc. warrants only the following conditions:

(provided that Water Walker Props, Inc. has on file a completed Warranty Registration Form for the propeller or components in question):
If you have a claim on the Warranty / Guarantee,
PLEASE CONTACT US FOR A RETURN AUTHORIZATION NUMBER.
(please have serial numbers ready when you call).
Then return the propeller to Water Walker Props, Inc. at the following address:
RETURN ADDRESS FOR PROPELLERS:
Water Walker Props, Inc.
19 Evergreen Drive
Lake Wales, FL 33898
CONSIDER THIS: The type of impact that damages a Water Walker blade beyond repair would shatter a wood propeller -- perhaps with explosive, disastrous consequences for the airboat...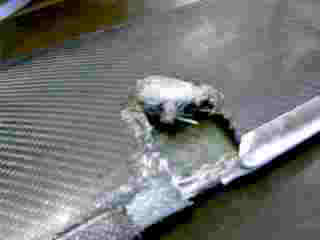 To find out which Water Walker Airboat Propeller is right for you, give us a call.
Or contact one of our dealers.
---